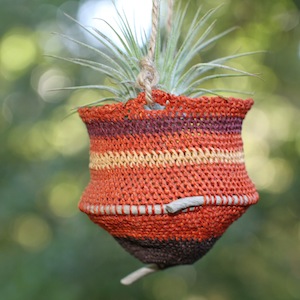 hanging basket no. 1
Orange, burgundy, golden wheat and brown waxed linen with paper cord woven through - a carefully crafted indoor hanging basket - handmade in Marin, California. Perfect for holding a small dry air plant or other miniature fancy. Recommend watering plant separately, then displaying it in basket. Dry air plant not included. The basket is 3 inches at widest part, 3 inches tall with a 2 1/2 inch opening dangling from a 15 inch long burlap twine.
Made of waxed linen, burlap twine, paper cord. Carefully packed in a kraft gift box inside another box.